Our professional skin care treatments will play an essential role in your skin's health and vitality. Each treatment is customized to meet your needs: We begin with a personal consultation and thorough skin analysis to ensure maximum results and concludes with a problem-solving prescription and home care advice.


Facials
The Esthétique Customized European Facial $85
Time: 90 mins
This is a European skin care treatment with customized applications for your particular skin type.
It is a luxurious, pampering treatment that includes ultrasonic skin cleansing, light exfoliation, soothing steam, stimulating décolleté, hand massage and deep pore cleansing. During the facial, excess sebum and other impurities are effectively removed from the skin. In addition, a mask and nourishing creams are used to hydrate and soothe the skin. Eye treatment is also included.

Please arrive or allow at least 15 minutes before your appointment

European Facial $70
Time: 75 mins
This enhanced facial is a unique blend of European techniques and luxurious, specialized products. The skin is steamed, deep-cleaned and gently exfoliated, extractions if necessary. Next comes a soothing face massage, neck and décolleté. In addition, an active ingredients mask applied and allowed to fully absorb while you quietly relax. Nourishing creams are used to hydrate and soothe the skin. Hand massage also included.


Algae Mask Facial $70
Time: 75 mins
The Algae Mask Facial is rich in algae extracts and nutritive ingredients of marine origin which owns stimulating, energizing, and moisturizing properties upon the skin. These active principles promote cellular activity and micro circulation, helping the attenuation of redness.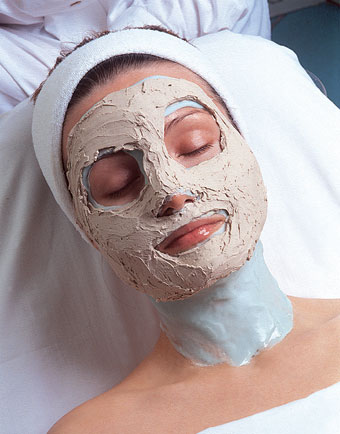 Repechage Four Layer Facial $100


Time: 90 mins
The premier treatment named "the best facial of the century" by Cosmopolitan UK and "the best of the best" in the world by Harper's & Queen. Layer upon layer of pure bliss. The best of the sea from massages which lull you to sleep to a cool and refreshing seaweed mask followed by a warm mineral-rich mask, all to give you face an instant youthful look. Indulge and see the difference.


Repechage European Seaweed Facial $75
Time: 75 mins
An anti-oxidant seaweed treatment to help reduce damage caused by the sun, pollution and cigarette smoke. This exfoliating, hydrating facial eliminates fine lines and evens out the skin tone leaving a perfectly smooth and healthy complexion.

The results are impressive: younger-looking skin with visibly renewed moisture and an afterglow that lasts.

Repechage Hydra Dew Express Lift Moisture Mask $75
Time: 75 mins
This unique treatment contains vitamins, mineral-rich seaweed, and phyto-extracts to lighten and restore a dehydrated complexion from UV and chemical exposure. It is perfectly designed for today's hectic lifestyles!


Anti-Stress Aromatherapy Facial $65
Time: 60 mins
This is designed for any skin type using essential oils to nourish and restore the skins natural glow.


Pre-Teen and Teen Facial 55
Time: 30 mins
Designed especially for teens 12–15 years of age. Addressing the special needs of teen skin. Allow our estheticians to educate your teen on how to properly care for their special skin concerns.


Men's Classic Facial $70


Time: 60 mins
Customized for a gentleman's specific needs, this is relaxing and deeply cleanses the skin leaving it nourished with a cleaner and refreshed appearance.

Back Facial $85
Time: 90 mins
The back is an area that is often neglected. The Spa Back Facial combines deep pore cleansing and steam to lift impurities, followed by gentle extraction, a relaxing massage, and a specialized treatment mask.


Add-on Facial Treatments
| | | |
| --- | --- | --- |
| Microdermabrasion Exfoliation (neck) | 30 mins | $35 |
| Microdermabrasion Exfoliation (chest) | 40 mins | $55 |
| Microdermabrasion Exfoliation (full back) | 75 mins | $125 |
| LED Light Therapy | 20 mins | $35 |
| Alpha-Hydroxy (Glycolic) Exfoliation | 25 mins | $25 |


Series of Facial Treatments
| | | |
| --- | --- | --- |
| Esthétique Custom European Facial | 5 sessions | $340 |
| European Facial | 5 sessions | $280 |
| Glycolic Skin smoothing | 6 sessions | $350 |
| Acne Peel | 6 sessions | $400 |
| Microdermabrasion | 6 sessions | $500 |
| Diamond Peel | 6 sessions | $500 |
Specialized Treatments
HydraFacial $140 single session/$600 series of 5 sessions


Time: 75 mins
The HydraFacial treatment is an advanced, non-surgical treatment that works by removing dead skin cells and impurities, while simultaneously bathing new skin in ultra-hydrating skin solutions, as well as improving penetration of therapeutic and cosmetic creams to the deepest layers of the skin. HydraFacial is an advanced skin treatment that improves the appearance of fine lines, wrinkles, congested and enlarged pores, oily or acne-prone skin, hyperpigmentation and brown spots. The HydraFacial immediately improves your skin's appearance by combining cleansing, exfoliation, extraction, and hydration with antioxidant protection, into 1 single treatment session. This soothing, non-irritating treatment is gentle enough for all skin types and immediately effective. For optimal results or more severe conditions a series of four to ten sessions is recommended at four to seven days apart, depending in the condition of the skin.
No Needle Mesotherapy $130 per session


Time: 90 mins
No needle mesotherapy is a non invasive procedure that is widely used to target problem areas by supplying nutrition and rehydration to the skin. It also works to tone as well as reduce fat and cellulite. Additionally, mesotherapy works to promote metabolism, drain the lymphatic system, increase blood circulation, decrease wrinkles, and brighten skin. Most benefits seen when done in a series.
24 Karat Gold Treatment $255 per session


Time: 60 mins
Benefits of this facial include slowing down collagen depletion and stimulating cell growth, filling in lines and lightening age spots. This treatment will also help restore skin tightness in the early stages of aging. The effects are most beneficial when done in a series of three treatments. This is the ultimate indulgence!


Microdermabrasion $100


Time: 60 mins
These new skin restoration processes uses super fine salt crystals to quickly and gently exfoliate the top layers of your skin. This non-abrasive, non-surgical procedure uses a highly controlled spray of fine, salt crystals to reveal younger, tighter, more radiant skin underneath. It will improve sun damage and soften lines as well as stretch marks. There is some evidence that microdermabrasion stimulates collagen formation. This treatment is ideally offered in a series for maximum effectiveness.

Note: Clients who have taken the medication Accutane (Isotretinion) in the previous twelve months should avoid microdermabrasion.


Diamond Peel $100


Time: 60 mins
This treatment erases epidermal layers at varying depths in a safe, controlled manner. This approach respects the integrity of skin and promotes even healing. Maintaining level cellular growth on the surface aids in the youthfulness of the skin's appearance.


Glycolic Skin Smoothing $75


Time: 60 mins
An intensive treatment designed to rapidly exfoliate the epidermal cells. Reduces scars and fine lines. Clarifies the complexion and improves hyper pigmentation. This treatment is ideally offered in a series for maximum effectiveness.


Acne Peel $80


Time: 45 mins
This peel uses a very effective blend of alphahydroxy acids. It is proven to be the best treatment for individuals who have occasional or constant breakouts. It is ideal for both teenage and adult acne.


Pumpkin Peel $85


Time: 60 mins
This peel is a powerful antioxidant treatment that brightens and rejuvinates the skin. It also offers more than 100 beneficial components including the highest concentration of vitamins A, C, and beta-carotene. This is also great for smokers as it stimulates circulation and provides vitamin nutrition. This treatment is appropriate for any skin type or condition.
LED Light Therapy $55


($30 in addition to any treatment)
Time: 20 mins
LED light technology is a painless, effective acne treatment. It stimulates collagen growth which is effective in making skin smoother, tighter, and more radiant, showing continued gradual improvements in your skin's appearance with each subsequent treatment. Facial treatments and Light Terapy complement each other brilliantly, and are gentle and soothing as well.



Eye/Lip Contour Mask $20 each/$30 for both


Time: 30 mins
In this wonderful contouring mask, rice powder and alginate work together to strengthen the delicate skin around the eyes and lips as marine collagen smoothes wrinkles.


Collagen Eye Mask $20


Time: 30 mins
Provide extra hydration to the entire eye area from eyebrow to cheekbone with this intensive mask. Designed to alleviate dark circles and puffiness. Made of 100% pure collagen and free of preservatives and perfumes.


Back Treatment $85


Time: 60 mins
An effective treatment to cleanse and clear problem areas on the back and shoulders by losing impactions, refining he pores, and beginning the healing process. It is the European Facial for your back.


Glycolic Back Peel $95


Time: 45 mins
Clear up the breakouts on your back. Treat your back with the same strength as your face.


Marine Active C Treatment $85


Time: 90 mins
A wonderful new treatment! Stimulating care promotes cellular activity and helps to smooth wrinkles. Efficient care of youth, Marine Active C is a real food for epidermis, rich in marine and plant extracts and Vitamin C. Creates a smooth and light complexion.


Make-up
At Esthétique, we use the highest quality make-up. I always update my colors for the season and I feel confident that I can give you the newest look. I will suggest the appropriate colors for you and provide you with the make-up that works for day and evening.


Make-Up Application and Lesson $50
During the one-hour make-up session, you will learn what colors are right for you.
You will learn to use the tools of the make-up artist and how to create your new look at home.
Bridal Make-up Pricing for this service is available upon request.


False Eyelash Application $25
Tinting
For dramatic eyes, try a long-lasting tint with incredible results. Match your brows and lashes to your hair color. You will see spectacular results in minutes.


| | |
| --- | --- |
| Eye Brows | $15 |
| Eye Lashes | $15 |
| Brows & Lashes | $25 |


Waxing

| | |
| --- | --- |
| Chin | $15 |
| Lips | $15 |
| Eyebrows | $15 |
| Side Burns | $20 |
| Half Arms | $25 |
| Full Arms | $40 |
| Half Legs | $45 |
| Full Legs | $65 |
| Bikini | $25 |
| Underarms | $20 |
| Back | upon request |
| Chest | upon request |
Note: Having facials while on medication (Retin A, Renova, prescriptive strength Glycolic Acid, Accutane), using drugs or having preexisting skin medical problems may cause a reaction and/or damage to your skin.
Please inform our esthetician if this applies to you.